How to Know If Your Car is Made in China?
Updated on December 05 2023
With car manufacturers have multiple factories across the world, how can you really tell where your particular car was made? There's a very easy way to tell. In this article, we'll teach you how to find this out, and help you answer the question: "Is my car made in China (or any other country in the world)?"

All cars in recent history comes with a vehicle identification number (VIN) or a "chassis number" as more commonly known in the Philippines. This of this like a national ID number that stays with your car no matter how many times it has changed owners, or even when its plate number is changed for any reason. The VIN is a unique 17-character code assigned to every car worldwide.
Vehicle Identification Number
The VIN provides important information about a car's manufacturer, model, year of production, engine type, and even more detailed things such as original color, and original equipment list. It's a very important piece of data that helps with tracing a car's history, as well as identifying and mitigating stolen vehicles. Due to its importance regarding car theft, it is this VIN that is "stenciled" or "macro-etched" by the LTO every time a car is sold. This is where the LTO takes a sheet of carbon, or uses a pencil to shade the VIN of your car, then proceeds to use a piece of clear tape to sample the said number. This is then included in the documentation of your car's transfer of ownership process, change of color process, among others.

Now that we know what a VIN is, let us explain the numbers and letters on it.
Decoding a VIN
The 17-character VIN is divided into multiple sections, each with a specific purpose, but for this article, we will focus on the first or first two digits: the country of origin.
Let's take two sample VINs
a. MHFGB8GS4G0810350
The VIN belongs to a 2016 Toyota Fortuner. We all know that Toyota is a Japanese company, but based on the first two characters of its VIN, the Fortuner is NOT made in Japan. The "MH" characters signify that the Toyota Fortuner is made instead, in Indonesia.

In case you're curious as to what first digit Japan-made vehicles have, it's "J." This can be found in the likes of the locally sold Toyota Land Cruiser, Land Cruiser Prado, Alphard, GR Yaris, etc.
b. LB37622ZXPX413667
This second VIN example belongs to a 2023 Geely Coolray. By looking at the first digit "L," we can tell that the Geely Coolray is made in China. This means that any car with a VIN starting with letter L, is in fact, made in China. This is true for other non-Chinese car manufacturers too such as Ford with their Territory (both the previous generation and the current "Next Gen Territory," and Hyundai with the new Custin.

And that is the very simple way to find out if your car is made in China. Simply look at the VIN! The question now is: "How and where do I find my car's VIN?"
Here are a couple of ways to find your VIN
1. Check under the windshield. Some vehicles have their VINs etched in a small peep hole under the windshield. This is relatively easy to find, and can be done from outside the vehicle.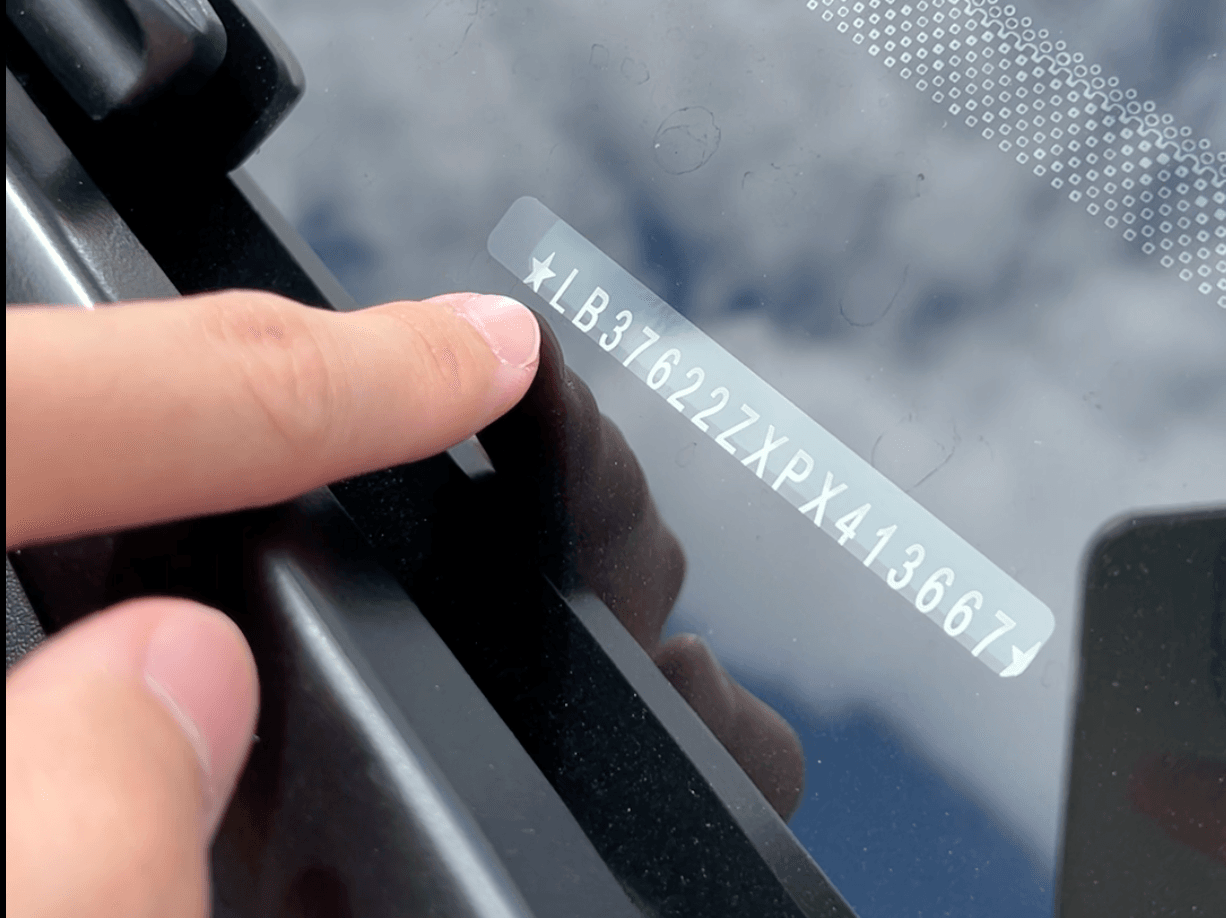 2. Check for a sticker or a metal plate on the car's B Pillar (the metal frame of the car in between the front and back doors).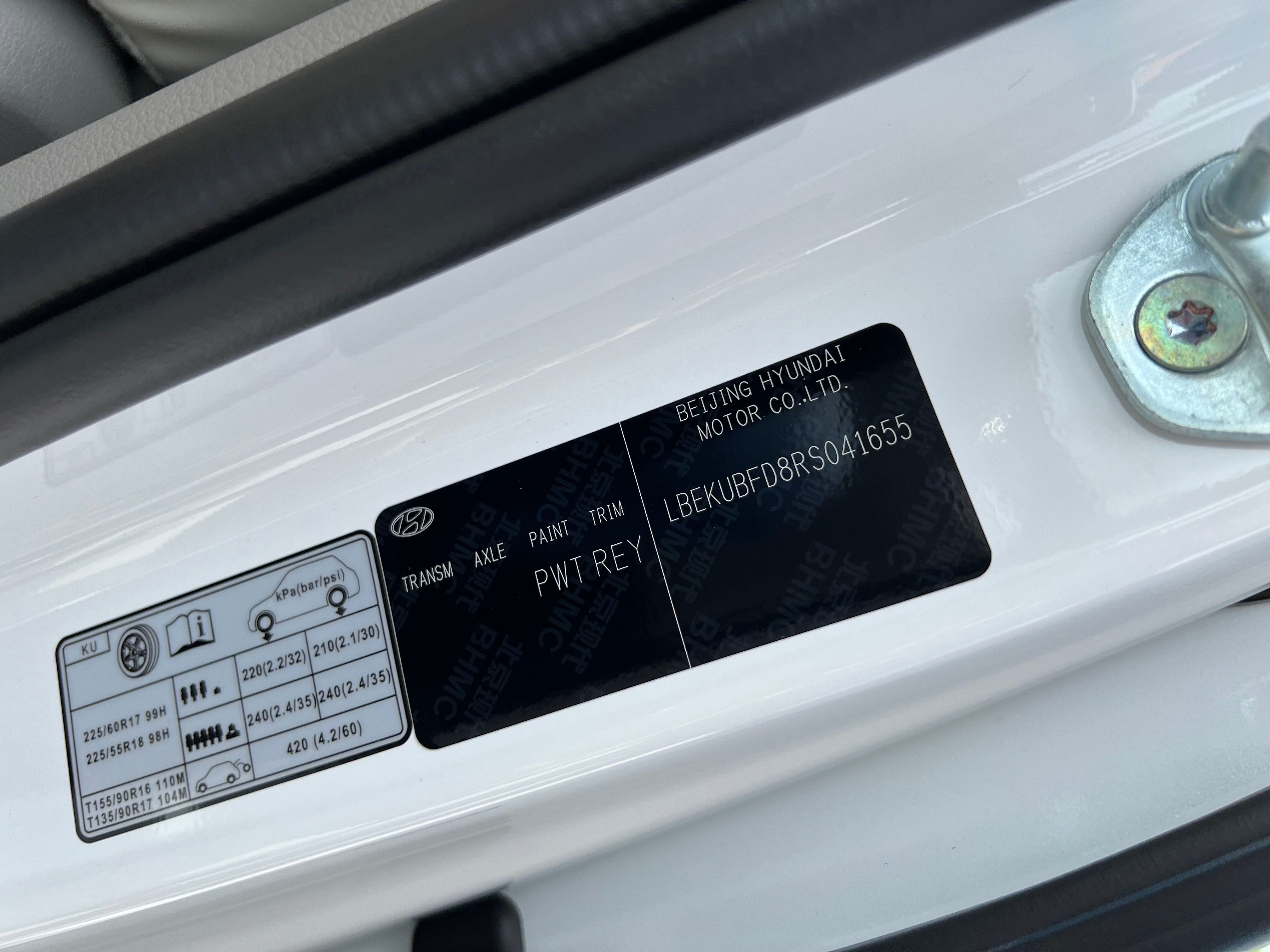 3. Most cars have their VINs etched on the firewall inside the engine bay. Simple open your car's hood and check for a 17-digit code at the back of the engine bay. This is sometimes of the driver side (LHD) near the brake hydrovac/brake booster, or the passenger side just below the base of your passenger side wiper.

4. Some cars also have their VINs etched on the passenger side floor. This is a little tricky to find, but can easily be done on some older German cars. This is done by lifting a concealed flap under the carpeting.

5. But probably the easiest way to check your car's VIN is by simply looking at your LTO issued Certificate of Registration (OR). Oddly, the LTO's latest format of the Certificate of Registration includes a field called "VIN," but is usually left empty. Instead, there is a field called the "chassis number" --- this is your VIN.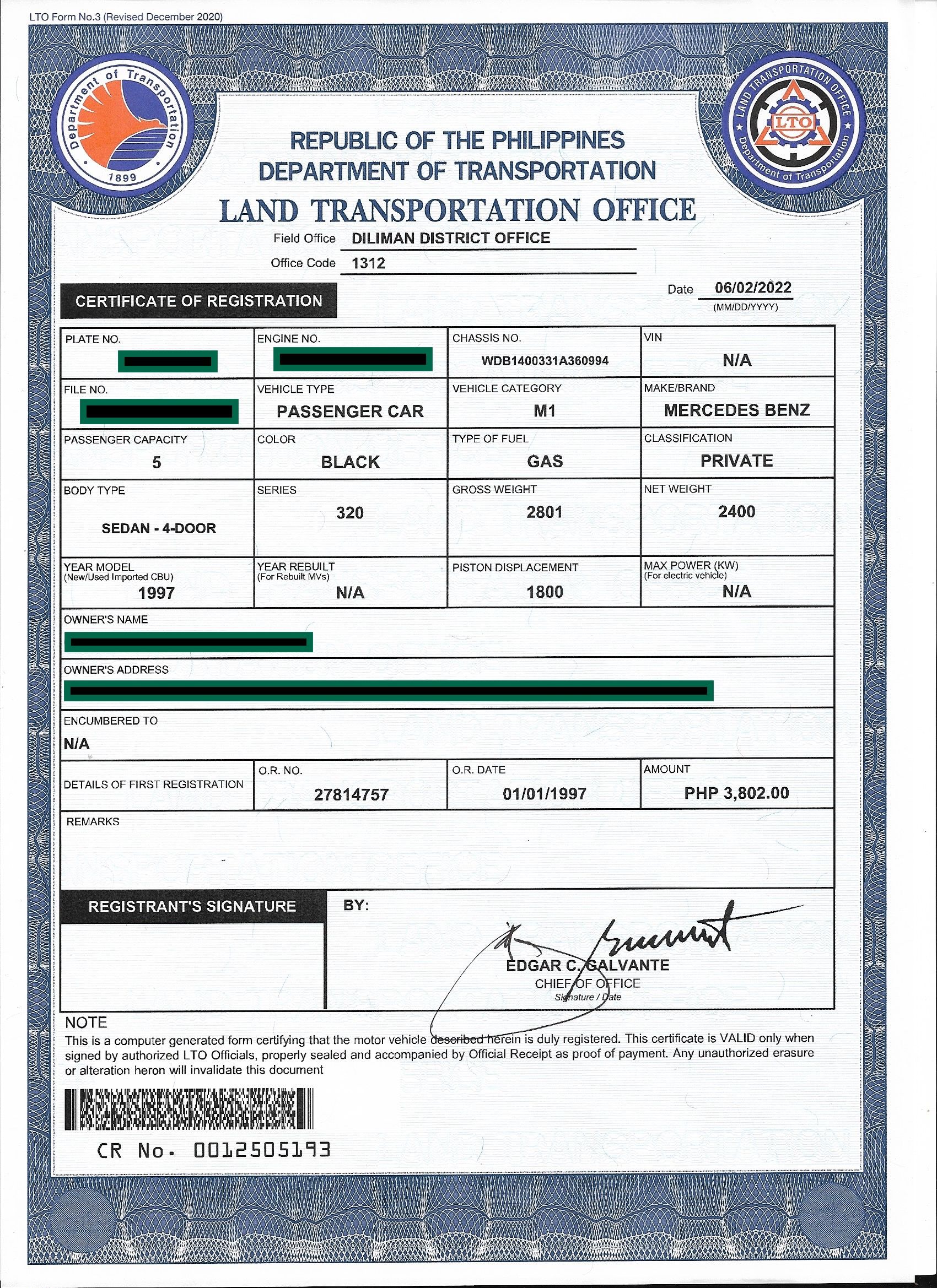 Have a particular preference for cars from a particular country? Explore Automart.PH where we have both new cars, certified cars, and repo cars made from all over the world. We'll even let you inspect their VINs when you come in for a viewing.