Used Toyota Vios Available For Sale Philippines
Repossessed Toyota Vios and Used Toyota Vios units for sale in the Philippines below. Automart.Ph partners with banks. This means we offer the lowest prices, as we don't include a hidden buyer's premium or any "patong." Automart.Ph sells you the same cars, with accommodating professionals, online convenience at exactly the same price ― no more, no less.
Used and Repossessed Toyota Vios For Sale
In this article, we'll talk about aspects of the Toyota Vios that makes it so popular, and perhaps help you in considering buying a Used or Repossessed Toyota Vios.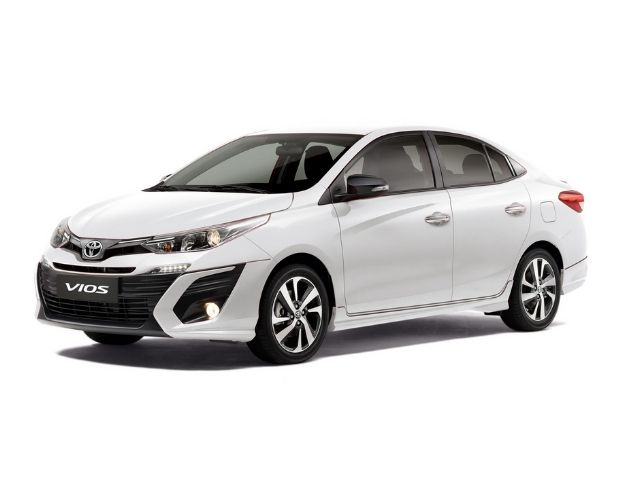 Why is the Toyota Vios so common in the Philippines?
Ever since the first generation was released in 2003 the Vios, as of 2018, has sold 268,000 units here in the Philippines according to Visor. And numbers are still rising year after year as the country's demand for vehicles increase. It has consistently been the top-selling car for many years now.
Why is the Vios so popular? Here are a few key reasons:
Value for Money

The reason why the Vios blew up in popularity is simply because of how cheap it is. Back then a base 1.3L Vios cost less than P600,000. It could easily fit five people inside, it has a decently sized trunk and an engine that, if the driver is alone, one could even have fun with.

The Choice of Taxis

Before the second generation of the Vios was released in 2007, the sedan that was the choice for Taxi cabs in the country was the old Toyota Corolla. That generation of Vios is the one with wide-eyed headlights and had a more curvy body. But as soon as that Vios was released, companies found that the Vios was made bigger from the previous first-generation.

Incredibly Useful Features

When Taxi cabs make use of certain models, it's more than a simple act of picking and choosing randomly. Taxi owners strategically pick out cars that are cheap, reliable, fuel-efficient and at the same time, have decent space. The Vios, sporting either a 1.3L or 1.5L engine, five seats, and a manual transmission, easily meets the requirements.

Fit for the Pinoy Middle Class

Given that the country was simultaneously developing, people were looking for better ways of mobility through the cities whose transportation system was notorious for being uncomfortable and inconvenient. Given that banks offer installments, a middle-class family could easily make the choice of buying the affordable Vios.

Financing Availablility

Combined with Financing options from banks, more people are thus capable of purchasing a Vios which many consider a good entry-level car. Automart.Ph has financing for most Vioses P300,000 and above, for qualified buyers. See article for more Information: How To Get Approved for a Used Car Loan

Plenty of spare parts

If you need repairs on your Vios, because of how many Vios' are on the road, the likelihood of a local car repair shop having parts for it is high. Vios parts are also cheap because Toyota has a manufacturing plant right here in the country in Sta. Rosa, Laguna.

Reliable

The Vios is a workhorse, which means it can run reliably with little maintenance. More often than not, a simple check-up and oil change every 5 to 10 thousand kilometers are all one needs to expend on the Vios because of its general reliability.

Easy-to-Customize or Personalize

There are many Vios owners that like to put on stickers, body kids, exhausts, engine tune-ups or different lights in their car so their Vios stands out from the crowd. There are a lot of accessories available for the Vios in any aftermarket shop.
Pros and Cons of Owning a Used Toyota Vios in the Philippines


Pros of Owning a Vios
They hold their Value Well

Because of how much people value the Toyota Vios nameplate, people generally also prefer buying used Vios' because of their reputation for being desirable even if they're not new anymore.

Longevity

As long as you regularly replace the engine oil, and use the car in a non-abusive fashion, the car will hardly have any issues. Sure it will need replacement brake pads, or new tires once in a while, but the overall chassis and the car's main parts are reliable and if it does break, it's easily replaceable. Just go to your nearest mechanic and ask.

Ease of Use

Most cars eventually end up being appliances when their owners start to lose the high of having bought a car and just start to use the car for its intended purpose―getting to places. The Vios is practically an appliance for most people because let's be honest, the Vios isn't the most luxurious-riding car. What it does well does its job―go in, start up the engine, and go places.
Cons of Owning a Vios in the Philippines
Not-Very-Sporty

The Vios may have an option for an upgraded 1.5L engine, and the extra power might come in handy, but it doesn't really make the car that much sportier. On high speeds like in highways, you're going to need to downshift a lot of gears just so you can overtake with a Vios.

Basic

The Vios' suspension isn't well-dampened so you feel most of the bumps on the road but aside from that, on highway speeds also expect a lot of road noise. It features a plastic, cheap-feeling interior and it also doesn't offer things like 360 cameras and LED headlights, features a lot of higher-spec cars have.
---
Other Cars and Articles Here Related to the Toyota Vios:
---
See other cars from Toyota:
---
Still Thinking About Whether a Used Car Is Right for You? Check Out Some Key Resources: